After 16 seasons, TDMS will come to an end on Saturday, June 29th. For the last 10 weeks of the show,
Drew will share his TOP 10 moments of hosting Canada's most listened to spiritual talk show.
Moment # 1:
"As we reach our final show I'm realizing that I'll really miss three main things:
1/ Hearing from listeners about how much they appreciated a show that gave them permission to NOT be so certain about their spiritual journey.
2/ The privilege to speak to guests about whatever it is they believe, in a very light-hearted manner and with absolutely zero agenda, aside from a genuine personal curiosity to understand "belief".
3/ Hanging out every Saturday with my pal from summer camp - Tim The Tool!"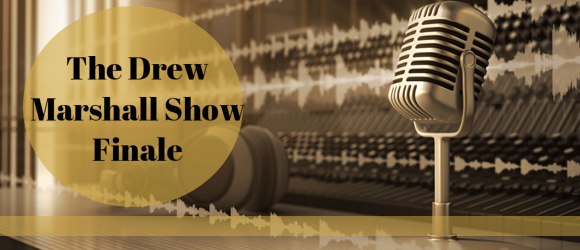 LIVE! on TDMS - Devoted Souly to the Art of Music
The Good Brothers — The First Band Drew Ever Saw Live!

In 1970 twin brothers Bruce and Brian Good of Richmond Hill, Ontario, met James Ackroyd from Winnipeg, Manitoba and formed a band simply called James and The Good Brothers. Their first show was with Grand Funk Railroad at Maple Leaf Gardens in Toronto. Then came the cross Canada tour on the outrageous Festival Express with such artists as The Grateful Dead, Janis Joplin, Ian & Sylvia, Ten Years After, Traffic and The Band just to name a few. With a little help from friends The Grateful Dead and Jefferson Airplane, they recorded their first album on Columbia records. From nights at the renowned Troubadour in West Hollywood to the gigs at San Francisco's famed Fillmore West and Winterland Ballroom with The Grateful Dead, Jefferson Airplane, Quicksilver Messenger Service, and the New Riders of The Purple Sage - they were loving it! Later, James would choose to remain in the U.S. while the brothers returned home to Canada and recruited younger brother Larry. This was 1973 and would be the beginning of a wonderful musical trip... The Good Brothers. Their first gig was the legendary Toronto club The Riverboat, on May 14, 1974. They played simple, straight from the soul music that encompassed country, bluegrass, folk, Celtic and the occasional taste from their rock & roll songbook. Highlighted by Larry's fiery banjo breaks, Bruce's award-winning autoharp styles, Brian's guitar finger picking and their unique sibling harmonies, they produced enough energy to burn down the barn. It wasn't long before The Good Brothers were packing Toronto's fabled El Mocambo five nights a week; breaking bar records, attendance records, and exhausting determined dancers. Then there were eight straight Juno awards for Best Country Group, and headline gigs at Toronto's Massey Hall and Roy Thompson Hall, The National Art Centre in Ottawa and the weeks at L.A.'s Universal Amphitheatre with their mentor Gordon Lightfoot. There was even a certified gold self-titled double album. In 2004 they were honoured by being inducted into the Canadian Country Music Hall of Fame as well as two nominations for Country Group and Roots Artist of the year at the Canadian Country Music Awards. In 2015 they received a "Lifetime Achievement Award" from the Toronto Musicians Association and in 2016 were inducted into the North American Country Music Association International Hall of Fame in Tennessee.

www.thegoodbrothers.com CHECK THIS VIDEO OUT: ALBERTA BOUND The GOOD BROTHERS 0001 **AND… Check out our DrewTube page to watch over 100 videos from some of our previous recording artists.



Special Guests