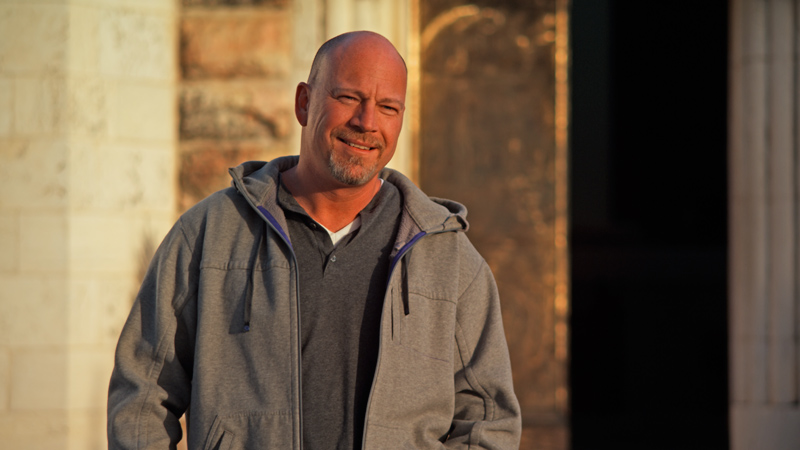 "Unpredictable!" "Incredibly honest!" "Provocative!" "Genuine!" "Engaging!" "Vulnerable!"
INVITE DREW TO SPEAK AT YOUR EVENT
CLICK HERE
DREW'S BIO (The Short Version)
Drew Marshall was adopted, grew up in a funeral home, survived a teenage suicide attempt, dropped out of school in Grade 9, ran away to California to be a wrangler, played semi-pro football with NFL/CFL tryouts, drove around North America volunteering for charities, tried to be a firefighter & a rodeo cowboy, was a stay at home dad, has worked a little in film and TV, became a Pastor in Australia and studied stand-up comedy & improv at Second City Toronto. These days he's a hospital chaplain and hosts Canada's most listened to spiritual talk show. He's interviewed hundreds of celebrities & cultural icons about their beliefs or lack thereof. Struggling with his own faith, Drew sacrificed his eyesight for the last week of Lent, paid non-believers to go to church, drank with witches, celebrated with Wiccans, visited with Satanists and walked 1000 KM's on the Camino de Santiago during a three month vow of silence. Now he's a "Red Letter", wandering, autodidactic iconoclast with agnostic tendencies and a microphone!
---
DREW'S BIO (The Long Version)
FAITH
As an ex-Pastor frustrated with religion and the seemingly intangible nature of an invisible God (especially after walking with barefoot children as they foraged through garbage dumps in Nicaragua) Drew Marshall has been on a life long quest to understand why and how people Believe. As host of Canada's most listened to spiritual talk show since 2003, he's interviewed spiritual leaders, cultural influencers, and yes… even celebrities, about their own beliefs. He's spoken with Marie Osmond about her Mormonism, Larry King about his Agnosticism, Alice Cooper about his Christianity, Sinead O'Connor about her Rastafarian Catholicism, and Penn Jillette about his Atheism. His quest to understand "faith" has taken him to Israel for a month where he meditated at the Wailing Wall; wept at Jerusalem's Holocaust Memorial; stayed at an orphanage in Bethlehem on Christmas Eve; herded sheep in Nazareth; and camped in the Judean desert during the worst sand-storm in 50 years. He's slept at Stonehenge, taken the pilgrimage to a monastic Mecca in the Scottish Hebrides, and waited for the tide to go out before traveling across the mystical road to Holy Island off the coast of England. Drew has prayed amongst ancient aboriginal petroglyphs in Australia. He's consumed ales with witches, drank mead with Druids, celebrated Solstice with Wiccans, discussed hedonism with the High Priest of The Church Of Satan, and asked Canada's polygamist leader about his bed-sharing schedule. Drew Marshall's personal pursuit to believe in the unbelievable has even led him to give up his eyesight for an entire week during Lent and in 2016 he took a five month sabbatical, during which he walked The Camino De Santiago (over 1000kms) and spent time writing in a monastery off the coast of The Sahara Desert – all in a 3 month vow of silence!
"The longer I search, the more I understand that doubt is actually more compatible with faith than certainty."
---
DEATH
Growing up in a Funeral Home has given Drew Marshall a unique perspective on death. From embalming bodies to retrieving them from suicide and homicide scenes, he performed every task imaginable in the family business. As a Hospital Chaplain, Drew has been at the bedside of many as they've breathed their last breath. As a former Pastor, Drew has walked family members through the loss of loved ones. Losing his own mother when he was 21 (on the same night his son was born) and surviving his own suicide attempt as a teen, helped give Drew an intimate and and vulnerable understanding of one of life's least discussed, yet most guaranteed events – DEATH.
"Embracing my mortality has given me permission to LIVE!"
---
LIFE
Not wanting to wait around for life to give him a shot after being asked to leave four schools, Drew Marshall finally dropped out after completing Grade 9 and took off to California. There he took a shot at being a wrangler at a ranch-camp in the foothills of the Sierra Nevada mountains. After returning to Canada in his early twenties, and having never played a game of football in his life, he took a shot at becoming a pro-football player and began playing semi-pro, which led to NFL & CFL tryouts. Then, Drew took a shot at voluntarism. He and his family drove around North America for six months, volunteering at over 50 non-profit camps for kids. Shortly after returning home, Drew took a shot at an overseas move to Australia with nine bags of clothes, two children, no place to live, and no job! Once there, he took a shot as an associate pastor at a church in the Blue Mountains. Five years later he moved his family back to Canada and in 2003 and with absolutely zero broadcasting experience, walked into a radio station and took a shot at hosting a talk show. Drew now hosts Canada's Most Listened To Spiritual Talk Show – listened to by an estimated 100,000 people around Southern Ontario and online by listeners from over 150 Countries! More recently, Drew decided to take a shot at improv & stand up comedy and became a student at the infamous Second City Toronto. To be continued…
"There's a possibility that being adopted instilled an underlying fear of rejection in my soul, which in turn, forced me to confront my 'flight instinct' early in life and turned me into someone who wasn't afraid to give anything a shot. There's also a possibility I'm just so completely off the charts with A.D.D. that I just gravitate to the newest shiny object!"
---
Various Highlights Include:
Walked over 1000 kms on the Camino de Santiago across Spain & France in a 3 month vow of silence
Panelist on NEWSTALK 1010 Live Drive
'God Guy' on The Humble & Fred Show
Co-Host of TV Show CTS Weekender
Guest on CBC's Test The Nation
Guest at the Global ComedyFest in Vancouver with comedian Andy Kindler
Guest on Monkey Toast – Toronto's Improvised Talk Show
Guest Panelist at the Canadian Association of Broadcaster's Annual Conference
Cast Member on Journey To Christmas, Documentary (filmed in Israel)
Co-Host on TV Series The Edge
Featured in The Devil We Know Documentary
Improv and Stand Up Comedy student at Second City, Toronto


---
Journey to Christmas
Drew's four part reality/documentary filmed in Israel
Drew's Journey to Christmas Highlight Reel
Radio & TV Personality

Blind Sacrifice Highlights
Blind Sacrifice Reflections