Our lives revolve around the place we call home. So when it comes time to move, you need someone you know is going to work with you, not against you. Look, moving is a lot of work! And the right realtor can help the transition go as smoothly as possible, taking care of all those details you just don't have time to deal with.

Anyone who's moved knows how important it is to find the RIGHT realtor!

Someone you can trust!

Someone who shares your values! Someone who cares about the little things.

Well guess what? WE FOUND THEM! That's right, we've found realtors in the GTA you can trust:
---

George Kloet
Oakville, Mississauga & Burlington
www.georgekloet.com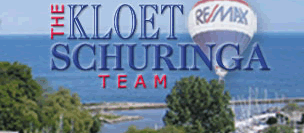 George Kloet (Klute) started his real estate career in Mississauga back in the mid eighties. He had previously been a custom home builder in the Town of Simcoe. A few years later in 1997, George and his niece Pauline Schuringa formed the Kloet (Klute) Schuringa RE/MAX Team in order to combine their efforts to service their clients. With their various backgrounds, George as a home builder/contractor and Pauline as a mortgage broker and real estate law, they bring years of expertise into every real estate transaction. They soon discovered that many of their clients wanted a higher level of service from their agent. For many, their home was their primary investment. The challenge was to help their clients maximize that investment. Gone were the days of planting a sign on the lawn and waiting for the phone to ring. Every home they list, the first thought is discovering ways to increase its value. With the ability to stage every home for sale, and a keen sense of current market trends plus strong negotiating skills, this has resulted in many record sales and industry awards. George was awarded the prestigious LIFETIME ACHEIVEMENT AWARD in 2007. Together they have sold well over 2000 homes in the Oakville – Mississauga area.
Whether this is your first home or your 10th home, they partner with you and, together with their support staff, prepare your current home to sell for its full potential. With two team members they can provide seamless support in locating your new home as well.
Buying or selling in Oakville or Mississauga? Call them. Two agents. One number.
George Kloet, Sales Representitive
Cell: 416.845.8145
The Kloet Shuringa Team
RE/MAX Realty Enterprises Inc., Brokerage
1697 Lakeshore Road West
Mississauga, ON L5J 1J4
Office: 905.855.2200
Toll-Free: 1.800.828.0531
Fax: 905.855.2201
---

Paula Mitchell
Brampton, Georgetown & Caledon
www.paulamitchell.com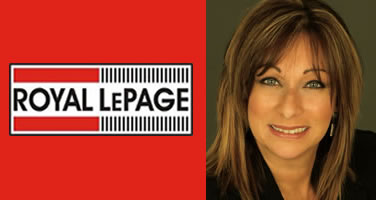 I have been licensed in real estate and working with Royal LePage since 1986. Consistently the #1 sales representative in the Brampton Royal LePage office and a member of the Royal LePage "National Chairman's Club", an honour exclusive to the top 1% of Royal LePage sales representatives across Canada.
I earned a membership in the Institute for Luxury Home Marketing, having been awarded the prestigious designation of "Certified Luxury Home Marketing Specialist" for demonstrating exceptional knowledge, experience and expertise in the luxury home market.
Being designated a Royal LePage Registered Relocation Professional. I am part of the largest network of independent real estate firms in the world, and the first international relocation service organization. RELO gives me a valuable tool to assists clients relocating.
Having grown up in Brampton, I am more familiar with Brampton than many in the business. My family and I have become engrained in the community in many ways, including hosting an annual charity golf tournament for the Honeychurch Family Life Resource Center, a shelter for abused women and their children, the only family violence shelter in Brampton as well as sponsoring the little & big "Battalion" hockey teams.
A licensed Real Estate Sales Representative for over 20 years, I service my clients in English or Portuguese, which has contributed to my success in the industry.
Royal LePage Meadowtowne Realty, Brokerage
324 Guelph Street
Georgetown, ON L7G 4B5
Direct: 905-454-8900
Phone: 416-816-0521
Toll-Free: 1-866-865-8262
Email: [email protected]
---

Zsuzanna Porter
Toronto & Durham Areas
www.yourvestedrealtor.com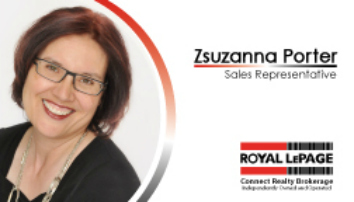 "Old Fashioned Values with Old Fashioned Service"
Zsuzanna does not want to be your realtor she wants to be your Realtor for life!
Happily married since 1988 to Joel Porter, with two fabulous boys ages 14 and 20, Zsuzanna has had a wide variety of business experience starting with banking in 1979; leaving to go to the manufacturing industry in 1985 while working part time as a dicta-typist for a group of five psychiatrists and then moving on to the retail sector in 1992. In 2004 Zsuzanna entered Real Estate and joined Royal LePage Connect Realty Brokerage and has enjoyed the career move ever since.
"Being a business owner working by referral means I deal with people I really enjoy!"
Zsuzanna loves the crucial role she plays in the lives of her clients. She is the type of person who makes things happen. Her confidence creates a positive "can do" attitude. Zsuzanna performs well under pressure and can be counted on in a crisis and is able to fulfill many roles simultaneously. She naturally has an eye to make things as efficient as possible. Zsuzanna's integrity is unwavering and therefore she is sought after and her reputation encourages others to seek her out! Zsuzanna is a lifelong learner that is compelled to develop herself so she can use what she knows to help her and others.
"I like her and trust her because she is what you see…. Passionate, Professional, Talented and always on YOUR side. Her direct approach and frank manner of communication is not for the meek. She is always on task and always out to get results.
Trust her passion and capacity… if she's on your side you need nothing else."
~ Garth Riley
Zsuzanna Porter, Sales Representative
ROYAL LEPAGE
335 Bayly St. W.
Ajax, ON L1S 6M2
Email: [email protected]
Office: 905.427.6522
Toll-Free: 888.766.4456
Pager: 905.683.1790